Play Professional Multitable Poker Now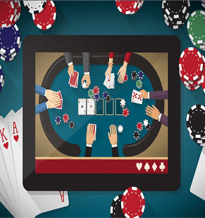 If you are serious about online pro poker or you are becoming more confident and skilled as a player, you should have at least heard of the concept of a multitable poker tournament, or MTT. As the name suggests, it is an event where a large number of players play many tables simultaneously. For a set fee, you receive an equal amount of chips, and then the games begin. As players drop out, the seats get shuffled around and tables are combined. Your goal with a multitable poker tournament is to stay in the game for long enough to make it to the money and ultimately to be the last player standing.
What are the Different Types of Multitable Poker Tournaments?
While there are many different variations, and each casino's offerings will be up to the discretion of that site, here are some common multitable poker tournament types that would be good to be familiar with. Many of these are enjoyed by pro poker players.
Freezeout Tournament - In a freezeout multitable poker tournament there are no second chances. If you lose all your chips, you are done.
Rebuy - Contrary to freezeouts, in rebuy multitable poker you can buy-in more than once. So, if you lose your chips or are running low, you can make a second buy-in which will go towards increasing the pool and will allow you to keep playing.
Bounty - There are two variations of bounty poker. In one case there will be a few players that are singled out with a bounty, and the player who eliminates them will receive that bounty regardless of whether they make it to the money round or not. In the other case, everyone has a bounty on their head, with half of the buy-ins going towards the prize pool and the other half going to the bounties.
Satellite Pro Poker Event - In a satellite multitable poker tournament the winner receives an entry into a larger buy-in tournament. The buy-in to satellites is low because the prize at the end isn't cash but a seat at a higher stakes table.
Freeroll - Many casinos also offer freerolls. These tourneys usually have lower prize pools (but not always!), but they are free to play in, making them ideal for newbies. This is a good chance to practice pro poker skills to enhance tour game for when you enter higher paying multitable poker tournaments.
What are the Highest Winnings from Online Tournaments?
Many multitable tournaments depend on the number of players entering to determine the prize pool. For example, if the buy-in is $10 and four hundred pro poker players enter, then the payout would be $4,000. This pool would be shared by the players at the final table, with the winner taking a larger chunk of the four grand and the others going home in the black as well. However, pro poker sites also offer set pools regardless of the buy-in or the number of players attending. These can be as high as $1,000,000, with some guaranteeing up to $150,000 to the winner.
Is it Possible to Get Free Chips?
If you want to play multitable poker tournaments, there will always be ways to do so that work in your favor, so keep a lookout for deals that will boost your chip count and keep you playing longer
New Player Bonuses - Look for casinos that offer free chips as an incentive to sign-up. Some of these may even be no deposit deals!
Deposit Bonuses - Other sites might offer deposit bonuses like match offers, where the house will match your deposit, usually up to a certain amount, say $500.
Rakeback - Rakeback is a way that websites reward you for being a loyal patron. Websites take a certain amount (called rake) from your buy-in to keep the casino up and running. If you play a certain amount, you will be eligible to receive back a percentage of the rake, hence the name.
A Few Tips to Keep in Mind When Playing Live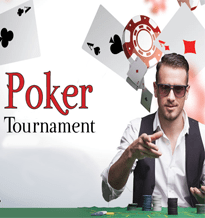 When you are playing live online multitable poker tournaments there are a few tips to keep in mind to ensure you have a great time and earn the most money possible.
The first tip goes for playing live or any kind of online gambling, really. Don't play more than you can handle. This goes for playing in games that are too rich for your blood and for playing more games than you can handle. Some pro poker players do what is known as multi-tabling, or playing more than one hand at a time, up to twenty or more! There are advantages to this strategy, but if you want to try it out, make sure you only play as much as you can handle and then work your way up so that you are sufficiently present in each game.
The second tip is to observe rules of etiquette. There's no room in the chat thread (or life in general) for being rude, crude, or threatening. Also, don't take too long to make up your mind, which can be frustrating to the other players during a multitable poker tournament. Finally, don't try to educate others when they make a bad move - this can come across as annoying and will put a target on your back.
Tip number three is to make use of the options available to you on the website you are playing on. For example, you might be able to tag users with things to keep in mind the next time you play them such as how aggressively they play, certain patterns you've noticed, or their level of skill. Other features might include simplifying the background to minimize distractions or colour-coding the suits for quick and easy identification.
Whether you play in a multitable poker tournament or just a single hand of poker, there are plenty of things to keep in mind, things to look for, and other things to avoid. If your goal is to play pro poker, then you will need to play lots to gain experience and then work on consistency and developing a personal style that works for you.
Pro Tips when Playing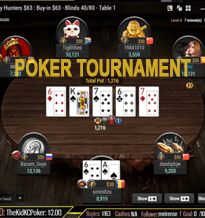 After playing in a few multitable poker tournaments, you will be exposed to players of all levels, and some of these will be pro poker players. These player can present a challenge during the event, but you can also learn a lot from watching how these pro poker players make decisions during play. One thing you will quickly learn is that strategy will change during a multitable poker tournaments based on the stack size. With a deep stack pro poker players will carefully select what hands are played and will aim to target weaker players.
When playing with a medium stack, the pro poker players suggest to raise pre-flop wise and watch for any signs of weakness. You should also be ready to go all in when you have a medium stack and continue to keep pressure on other players. Finally, a short stack is when a multitable poker tournament becomes quite interesting. This is when players will be unleashing power to build the stack back up. Keep in mind that opening hands will not assist in building the stack but with tight competition, stealing blinds and raising will provide to be beneficial.
When you have a tiny stack, there are basically two choices. The pro poker players say to either go all in or fold. By using different strategies based on your stack size, you will be able to weed out the competition in a multitable poker tournament and have more chances at success. Even the pro poker players have bad days, so be ready to accept losses as there is no strategy that can guarantee you will win every multitable poker tournament you play.